News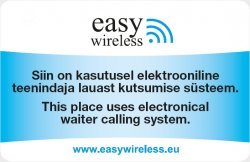 Try the systems for free!
Wireless call systems, wireless calling systems
The Easy Wireless brand was established in 2011, joining various wireless systems for use in different fields of life. Operations began in 2010 with a project aimed at developing and providing solutions for catering companies, which would allow for improvement in their quality of service, the optimisation of the work of waiters and kitchens, an increase of customer satisfaction and an increase in the profits of companies as a whole. In February 2012, the waiter call systems TCS-01-35 and TCS-02-70 for customers were launched onto the market, followed in March by the waiter call systems for the kitchen: KCS-01-6, KCS-02-12, KCS-03-24, TKCS-04-35 and TKCS-05-35. The systems are reliable and easy to use. Feedback given by customers for the waiter call systems has been positive. Payment terms are flexible and favourable. The waiter call systems can be leased as well. The company provides customer support for the users of the systems by phone, e-mail and Skype.
At the moment, the Easy Wireless waiter call systems are in use in Estonia, Latvia, Lithuania, Russia, Belgium and Brazil. The establishments that use the Easy Wireless waiter call systems can be recognised by the blue-and-white sticker on the door. The blue-and-white door sticker of Easy Wireless is also a sign of fast and smooth service. The company continues with product development to find new convenient wireless technical solutions for use in the field of catering and in other fields.
We are looking for resellers of our products within Europe and outside. We are looking forward to offers of new and practical technical solutions and products from manufacturers.