News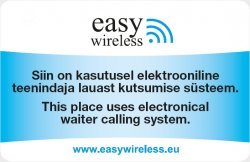 Try the systems for free!
Wireless call systems, wireless calling systems
The company was grounded on 2010.
Easy Wireless Ltd. OU. is involved in sales of wireless call systems and after service in whole Europe.
We are offering various wireless call systems for restaurants, cafees, clubs, hotels, motels etc. Company has more than 200 clients. Our systems are installed in Portugal, Germany, Austria, Chech, Slovakia, Poland, Ukraine, Russia, Estonia, Latvia, Lithuania etc.